Tim Horhota,
Certified member of the Canadian Golf Teachers Federation
Welcome!
(Off-Season rates are currently in effect!)
Notice: As I begin to slowly ease into retirement mode (Fall 2024), I have reduced my 'core' hours available thru the online scheduling system. However, if you aren't able to find a suitable time available, feel free to call or text me at 905-641-8600 and I will do my best to make it happen.
Offering Private and Semi-private Full Swing Instruction:
Note: Private lessons are approx 50 minutes. I recommend semi-private lessons at 90 minutes
Let me help you to develop your golf swing and build confidence in the privacy and comfort of my fully equipped teaching studio. Be prepared for a fun and fast paced learning experience enhanced by the extensive use of video feedback. You will find learning is much easier when viewing your swings on the monitors as I explain what we need to work on.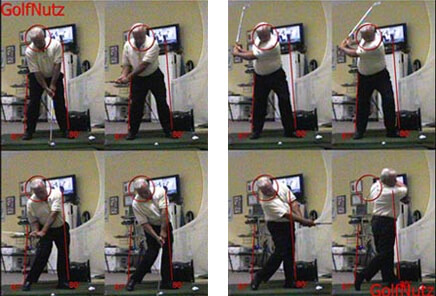 Seeing yourself on video can be VERY enlightening!
Initially, the emphasis is on understanding and implementing the fundamentals (how and why these basics influence how you swing a golf club); establishing / reviewing your 'pre-shot routine' which transitions into your 'setup routine' ( Grip, stance, posture, ball positioning, and alignment to your initial target line). Inconsistency is the hallmark of golfers not familiar with these 'routines' . While the 'basics' certainly don't sound exciting, they are the secret to achieving consistent results that every golfer hopes for. Once we have your setup properly established, adjustments or changes to your swing will feel very natural. Balance and effortless power will inevitably follow.
'How soon till I see improvement?' Simply put, it's your commitment and enthusiasm (and practice!) will ultimately determine how quickly you can take your new swing to the course.
Are you ready for the challenge?
*NEW – Flightscope Mevo Plus Pro Launch Monitor and Virtual Golf Simulator
This off-season, enjoy a round of golf with your friends on the Flightscope Golf Simulator. Six courses to choose from! Just $30 an hour. Plan on 1 hour per person, so 4 golfers can get in 9 holes in two hours or 4 hours for a full 18.
As a practice aid for the more advanced golfer, Flightscope's Mevo Plus launch monitor helps you refine your game by providing an accurate representation of your ball flight and the detailed 'numbers' behind your swing including speed, spin rates, carry distance etc.
GolfNutz Learning Centre (established 2001)

Note: Please call or text if you are unable to find a suitable date / time for a lesson. I will do my best to make it happen!
Certified through the: